Pantsuits Optional. Leadership and Innovation Required.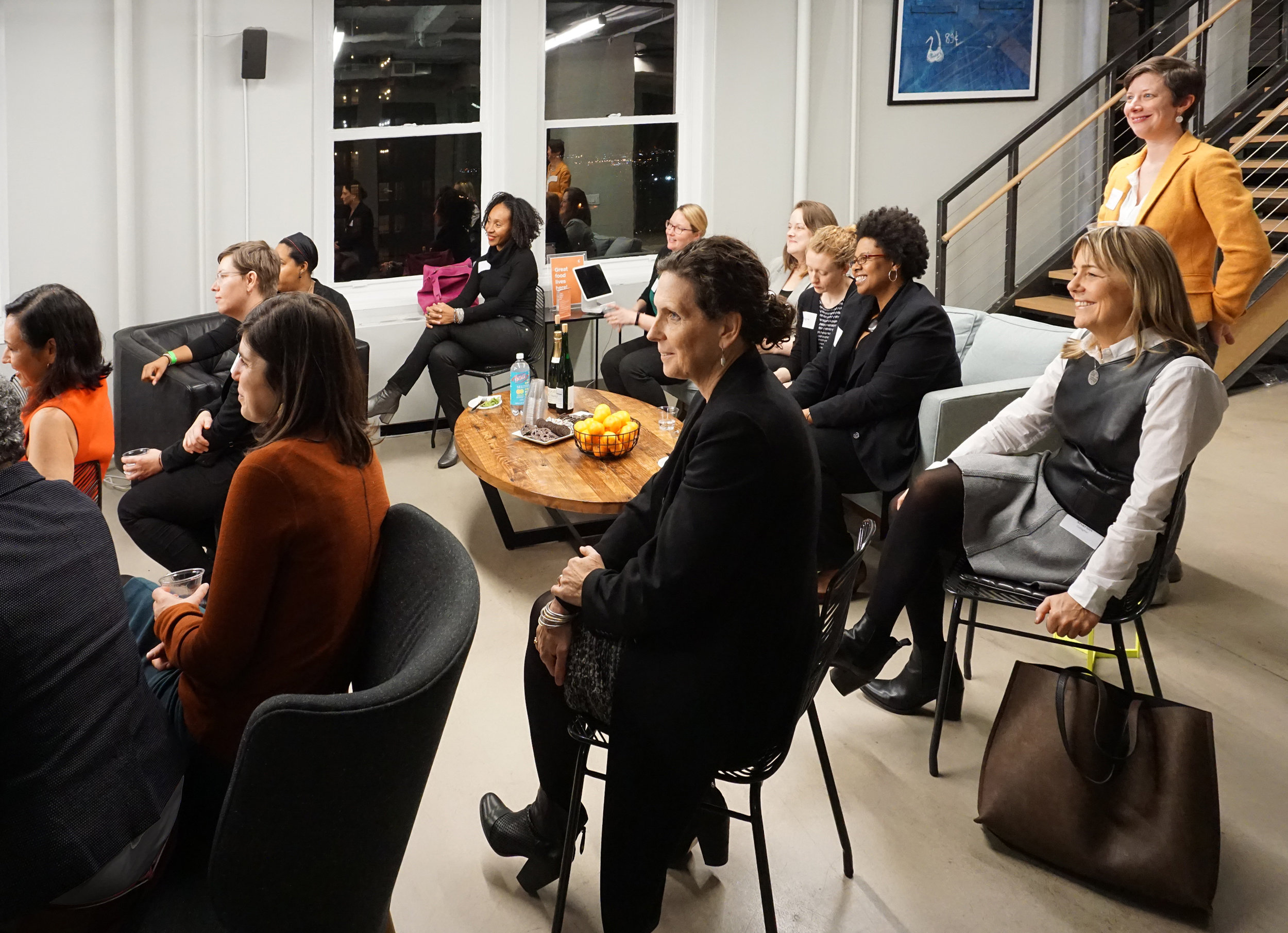 PGDG welcomed its 4th annual cohort of fifteen remarkable women on Thursday with an evening of superheroine power poses, pantsuits, an energizing presentation from Rasmia Kirmani-Frye of the NYC Housing Authority, and of course, splashes of PGDG-pink.
The growing influence of "girls" doing good in Philly was clearly on display. This year, Philly Girls Do Good alumnae welcomed the first cohort of women picked exclusively from professional community nominations— and there were MANY.
PGDG co-founders, Danielle and Sylvia of Locus Partners, spent weeks combing through recommendations, statements, and resumes to pick the most diverse group of PGDGers to date. Ethnically diverse, hailing from widespread Philadelphia neighborhoods, and working in a variety of fields related to design and community development, from affordable housing advocacy to construction management to the arts—this new cohort comes ready to build lasting connections and use each other as resources to work on some of their most intractable professional challenges.
"Relationships matter" Kirmani-Frye repeatedly emphasized throughout her presentation about the Fund for Public Housing, the first non-profit fundraising arm for a public housing institution in the country. They were not empty words. Kirmani-Frye formed one of her most significant relationships while filming a PSA in Macy's basement furniture department early in her career—an unlikely start to a professional relationship that would inspire some of the most innovative thought to affordable housing in the U.S.
Forget the chit chat and banal networking conversations; these women kicked off their new relationships by writing down their biggest professional challenges on a piece of paper, and used hot pink tape to post them on the wall for the rest of the group to read. Topics varied from improving opportunities for female and minority designers, to fostering and supporting creative staff, to sensitively eliminating programs that aren't working.
After some time for reflection, bit by bit, ideas on addressing those challenges appeared on colored paper beneath the original posts, with personal notes or business card invitations to work together on solving a particular problem. The strength of the network could be measured in colored pieces of paper stuck on the wall – a visual testament to the compassionate and professional network developing in the room.
New PGDG Cohort 2017 member Maggie Reed, Project Manager at Gilbane Building Company already has a good network, but in a male-dominated field, she's excited to meet creative women working in related professions. Tya Winn, Program Manager at the Philadelphia Housing Authority also said PGDG will help her develop connections, but she used a more intimate word, "sisterhood." A sisterhood of women known for doing good.
"Do the hardest, most challenging thing first," Kirmani-Frye told the group. Over the next few months, in small group discussions and private Facebook conversations, the 2017 Cohort will work on exactly that, and we'll cover their new ideas, lessons learned, and inspiring stories right here on the PGDG blog.
photo credits to Sophia Lee